"I found the process Chris uses helpful, and, after going through it, our employees now realize their future is brighter than they thought."

Carol Chowaniec, Accountant, Springville Mfg. Co., Springville, NY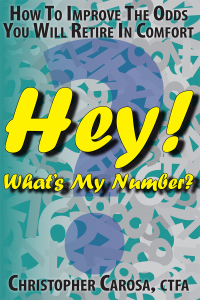 There's a single number you can discover that is the key to living the life you desire. Popular financial writer and experienced investment adviser turns his trust and fiduciary experience into an easy-to-read instruction manual that may just turn your life around. Hey! What's My Number features FiduciaryNews.com's Chief Contributing Editor Christopher Carosa's usual whimsical dialogue in a face-to-face talk with a plan participant mixed with the combined wisdom of the financial professionals he's interviewed over the years.
For many, the challenge of 401k plans mirrors the challenge of driving a car with standard transmission. It's really hard to get into first gear. That's not a problem the government can do anything more (it's done enough already). The responsibility lies solely at the feet of the saver (no pun intended, OK, who am I kidding, pun intended). Hey! What's My Number? takes you well beyond this first step. Experience the wisdom and insights of dozens of the leading retirement service professionals from all across the country and discover how you can retire in comfort.
Along the Journey, You'll Uncover What Drives a 401k to Work So Well:
4 Steps That Will Change Your Life
How to Retire a Millionaire (Hint: It's Easier Than You Think)
7 Simple Saving Secrets Every 401k Saver Should Know
10 "Don't"s of 401k Savings
The Retirement Saver's Secret Weapon
The 401k "Benefits" That Can Hurt Your Retirement Readiness
The Three Most Common "Over"-reach Mistakes of Retirement Savers
3 (Bad) Reasons 401k Savers are Over-Cautious
The 2 Least Understood Investment Rules that Most Harm 401k Savers
Revealed: The Three 401k Strategies More Important than Your Investment Selection
The Secret to Retirement Success
A Warning to All Retirement Savers
Detecting These Signs Can Help 401k Investors Avoid a Fall
Why Everyday People Hate and Mistrust the Financial Services Industry
"Peril" – the new "Risk"
The New Way: Goal-Oriented Targeting
How Does Goal-Oriented Targeting Work?
Are You Ready to Retire?
Your Key Personal Data
How to Assess Your Personal GOT
5 Things to Do to Improve Your GOT
Includes Instructions to FREE Easy-to-Use Retirement Readiness Calculator!
Discover the best way to prepare for a comfortable retirement by using the FREE Hey! What's My Number? Retirement Readiness Calculator. The last section of Hey! What's My Number? explains what your can do to obtain the best Goal-Oriented Target ("GOT") you can!
Sign up below and we'll be sure to let you know when it's ready!